NO street shoes allowed on the dance floor!!!!
NO one is allowed in the dance room without a teacher's permission.
NO student will be allowed to leave the dance room once class begins. (unless a parent request them to leave)
NO RUNNING!!!!!!!!!!!!!!!!!!
Once class begins students will have direct supervision by their teacher at all times.
There will be a viewing monitor in the waiting area if you choose to watch your child's class. Parents do not have to stay during class time. (However please be prompt picking up your child at the end of class.) Teachers are not responsible to babysit after class is dismissed.
Pre-school & pre-k classes are 50 min.

Beg. classes are 1hr.

Int. & Adv. classes vary by class.
We have a significant size waiting room & are happy to have you stay & watch your child via closed circuit TV.
However please follow these guidelines:
You should be courteous to others who are waiting as well.
Use regular speaking voices & use cell phones outside.
Use & have children use headphones if listening to movies,music, games etc.
Siblings should be properly supervised at all times.
The waiting area is not a playground!! There are, however, playgrounds/fields located less than 5 min. from the studio if they need to get out & burn off energy.
Do not allow siblings to run around, climb on furniture, remove cushions from seats or rough house.
Digital toys, books, coloring books or a few small items to keep them busy are recommended.
All toys should be cleaned up about 10 min. before class ends so traffic in & out will not be affected.
Please leave the waiting area in the same condition it was in when you arrive.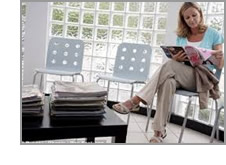 If you bring food or beverages please pick up after yourselves. Crumbs will bring in ants & we do not have a maid service between classes. (There will is a small hand held vacuum on the shelf under the viewing monitor)
IMPT NOTE: Always ask others around you if there are food allergies & please keep small children in 1 spot while eating to eliminate crumbs.
There are also restaurants like Subway & Papa Ginos nearby where they are set up for eating with tables & chairs.
Please use the parking lot to the left of our building (if you are looking at it from Rt. 140) The town has made it clear that there cannot be any parking on Lewis St. for any reason at any time.
Note: The small parking lot on Lewis St. where the dumpsters are) is for FIM staff only.

Pick up Reminders:
Please be prompt at pick up & come into the waiting room.

Students no matter what age are not allowed wait outside the building for rides.

Use of mobile devices are great for alerting older students you are in the parking lot.
PLEASE remind them of this important safety issue often.
Since we have families from different towns & school systems, we do not specifically follow the Franklin School's closing decisions. See policy to the right & let us know if you have any questions.



Also I wanted to mention that my landlord is in charge of snow removal & plowing at our building. Over the past 3.5 yrs. it has not always been the best. However the staff & myself (& often some very kind parents) do our best to keep the front walk way as safe as possible. It does however get slippery, so please be careful entering & exiting the building.
There is sand/ice mix inside the front door of the studio. If staff is teaching & walkway is bad please feel free to address the situation.
A studio wide email message will be sent & an announcement will be posted by 8 AM on our website the morning of any significant storm to inform you if dance classes have been cancelled.
Sometimes morning storms clear by mid day, therefore a second message will be left by 2:00 PM regarding after school & evening classes.
Please use good judgment & call ahead during inclement weather - 508-520-0054.
FIM is closed during school vacations & many major holidays. Tuition already takes into account these scheduled closures. There may be an unscheduled closure due to a studio emergency or inclement weather. In those instances we will try our best to reschedule a class on another day or time or during a school vacation. A makeup class is not always convenient for the entire class & if most can not attend it will not be made up.
Makeup options:
Anytime your child is absent whether it is for a scheduled closure or a miss due to sickness or personal obligation, they are encouraged (NOT MANDATORY) to come to a comparable age/level class on another day, within 2 weeks of missing. If your child is absent & you would like to schedule a makeup or in the event of a prolonged absence (more than 2 weeks in a row) please email FIM Administration feetinmotiondance@gmail.com
We also ask that you use our Report a Student Absent Form.
Frequently missed classes:
If a student misses class frequently (especially nearer to recital season) a meeting may be requested with parents to discuss the need to schedule private lessons (additional fee) to get a student caught up. Frequent absences impact the entire class, therefore regular attendance in your child's own class is very important. Please try to limit misses to 2 or 3 per. dance season.